Une virtuose étincelante du piano à la Philharmonie
Lundi 15 décembre 2008 à 20.00 heures à la Philharmonie
- Salle de Musique de Chambre -
Di Xiao
Di Xiao piano
W. A. Mozart: Sonate für Klavier F-Dur KV 332
F. Chopin: Préludes op. 28 (sélection / Auswahl)
Ballade N° 4 en fa mineur (f-moll) op. 52
Maurice Ravel: Miroirs
Olivier Messiaen: Préludes. N° 1, N° 5, N° 8
«Rising stars» – ECHO European Concert Hall Organisation. With the support of the European Commission Programme Culture 2000
Tickets:
www.philharmonie.lu, (+352) 26 32 26 32
Luxembourgticket.lu, (+352) 47 08 95-1
La seconde jeune grande interprète sélectionnée pour faire partie du prestigieux cycle «Rising stars» 2008/09 (désignés par les salles de l'ECHO – European Concert Hall Organisation) est la pianiste Di Xiao. Née en Chine en 1980 et formée à Guangzhou, Odessa, Pekin et enfin Birmingham, elle a remporté en 2006 son Prix de piano au Conservatoire ainsi que le célèbre Symphony Hall Prize, séduisant la presse et le public par son enthousiasme. Limpide et d'apparence modeste, la Sonate en fa majeur KV 332 n'en contient pas moins un brillant allegro assai à la virtuosité étincelante. Di Xiao l'enchaîne à quelques poétiques préludes de Chopin et au monument qu'est la Quatrième Ballade (1842) avant d'attaquer le chef-d'oeuvre incontesté du piano ravélien: les Miroirs (1904/1905) aux multiples reflets harmoniques. Les Préludes que Messiaen a composés dans l'Aube en 1928/1929 seraient en réalité, selon le compositeur, des études de couleurs: sa très simple «Colombe» (Prélude N°1) au mode décrit comme «orangé, veine de violet» est ponctuée d'un magique effet de carillon.
About Di Xiao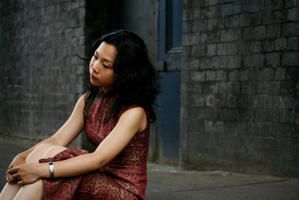 Chinese pianist Di Xiao was born in 1980. She began her musical studies at the age of four and two years later won a major prize in the Pearl River Children's Piano Competition. She began her studies at the Guangzhou Conservatoire's associated secondary music school under the eminent Professors A. M. Bougaevski and G. V. Popova. She continued her education at the Odessa Conservatoire in the Ukraine and later at the Central Conservatory of Music in Beijing. Di Xiao emerged as the Conservatory's top student of in both academic and piano studies and, on a full scholarship, stayed on for her Master's Degree in Piano Performance under the renowned Professor Qi Fang Li. Graduating with one of the highest marks in the history of the Conservatory for her final recital, she was awarded another full scholarship. This enabled her to study for the Advanced Postgraduate Diploma at UCE Birmingham Conservatoire under Professors Mark Racz and Malcolm Wilson. She graduated with distinction in 2006.
While at Birmingham Conservatoire Di Xiao won both the prestigious Symphony Hall Prize and the Birmingham Conservatoire Piano Prize in 2006 and the Ludlow Philharmonic Concert Prize in 2005. In the UK, she has performed as a soloist at prestigious venues including Symphony Hall Birmingham, Warwick Arts Centre, the CBSO Centre and Adrian Boult Hall. In June 2006, she had the opportunity of a personal master-class with Alfred Brendel on Beethoven's E major Sonata Op. 109, during which he commented on her "very clear mind and excellent fingers!" In July 2007 she took first prize at the Brant International Piano Competition.
Di Xiao's concert performances continue to receive much acclaim in the UK. Her successful debut at Symphony Hall Birmingham in January 2006 was described by the UK Chinese Times as "A stunning concert!" The Birmingham Post also published a highly complimentary review of her recital there. Recent engagements have included a recital in June 2007at Stratford Town Hall as part of the Stratford Music Festival and, in the same month, a performance of the Schumann Concerto after which The Birmingham Post described her as "a pianist of awesome gifts …her imperious opening flourish [Schumann Concerto] announced a capacity for full, rich chording. But there was also flowing, rippling figuration as she revealed her instinctive grasp of this wonderful work. In her graceful, dancing finale it was easy to imagine Clara Schumann at the keyboard, Di Xiao's profile and demeanour uncannily close to those of the great lady herself."
Di Xiao won numerous prizes and competitions at an early age, among them first prize in the Luo Shi Trophy Competition in 1990 and Most Outstanding Young Musician of Guangdong Province Award in 1996. She has been invited to perform as a soloist in many countries including China, Malaysia, Ukraine and the UK. In 1997 she played Chengzong Yin's Yellow River Piano Concerto in Kuala Lumpur and Penang for the royal family of Malaysia, which drew much praise from the press and critics. In her own native country, she has appeared in the most important concert halls including Beijing Concert Hall, International Theater, Poly Plaza in Beijing, Beijing Central Conservatory's Recital Hall, Xinghai Concert Hall in Guangzhou Conservatoire and Zhuhai Concert Hall. Apart from her solo work, Di Xiao is an experienced chamber musician, having collaborated with the well-known Chinese violinists ZhaoYang Lin and Wen Lei Gu. Their concerts have been widely praised for their interpretation of sonatas by Beethoven and Franck and the Ravel Trio.
Di Xiao's truly inspiring concert performances stem from her equal mastery of technique, artistry and temperament. She forms a strong bond with audiences everywhere and exudes a special quality and integrity in her music making. Her repertoire reflects a broad spectrum of musical interests with a wide range of musical styles ranging from the works of Beethoven and Mozart to Ravel and Messiaen. She also has a keen interest in Chinese classical folk music and in the contemporary piano works by the new generation of Chinese composers and is always seeking new and innovative ways to bring these works to a wider audience. She aspires to be an international ambassador for the piano, combining both Chinese and Western repertoire in the programming of concerts, thereby creating a bridge between two cultures.